Instructor/Founder: Jenny Alphin, TRS, CEGE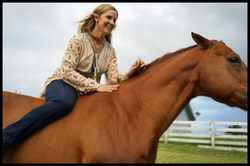 Jenny started horsemanship classes and riding at the age of 8 and now has over 30 years of Industry specific experience. She studied with Pat Bettes in Powhatan, Virginia for over 10 yrs, learning about horse care, barn care and riding English Hunt Seat. She won many awards for horsemanship and was well known on the show circuits, bringing home grand champion trophies each time. She also dedicated her summers to teaching riding and horsemanship to children at Camp Friendship riding program. She received her bachelors degree in Therapeutic Recreation from Radford Universtity (TRS). She successfully led a team as The Director of Therapeutic Recreation for over eight years. During her career she has won many awards for community service and programming excellence. Once she made the move out west she turned her passion for horses and recreational therapy into a reality. She has earned her Certification as an Equine Guided Educator with Skyhorse Ranch (CEGE). She cared for several horses from Arabians to Fresians and gave her time to Giant Steps Therapeutic Riding program. She also volunteered with several horse rescue programs, most recently SAFER Horse Rescue. A belief in Natural Horsemanship has taken her and her rescue horses to amazing places of love and respect. With a degree in Therapeutic Recreation, Certification as an Equine Guided Educator, strong background in horsemanship and passion for horse rescue have come together with this dynamic program.

To View and Book Classes with Jenny please click on her picture.
---
---
---
Marketing Specialist: Joy Lind, CEGE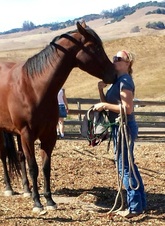 Joy has been riding since she was a child and her love for horses has continued into her life as a wife, mom and career woman. She adopted her first horse (Sweet Mocha Man) from Hoof Beats Stables a few years ago. Together they explored life, love and grace. Mocha is no longer with her in life yet he continues to guide her and help her explore new stories. She obtained her certification from Skyhorse Ranch in order to offer life enrichment programs. With her strong background in self development and owning her own successful real estate business, she is able to provide all of her clients a well rounded and life changing experience. No horse experience is needed. Just come with an open mind and a willing heart, Joy and our horses will show you the rest.
Contact Joy to have her create an unique program based on your individual needs and goals. She works with corporations, small businesses and individuals. Her goal is to assist you in your life path developing authentic self for the sake of happiness and peace in your new life path.

Please click on her picture to contact her.
---
---
Volunteer and Ranch Staff: Karen Wray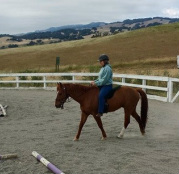 Karen has always been passionate about her relationship with horse since she was a young girl. She had the honor of having her own horses when she was growing up. Even when life got busy and she became a mom and career professional, she never was far from horses. She is a sponsor of our horses and allows herself to meet and love each one rather than choosing one horse. Her goal to to continue to grow in her knowledge and expand her horizons with herself and her connection with horses. She plays a supportive role at Hoof Beats and an excellent care giver to them all. Her love and compassion is never ending.
---
---
Volunteer Trainer and Ranch Staff: Phyllis Tajii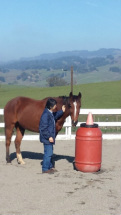 Phyllis has been riding and working with Hoofbeats for several years. She is currently sponsoring Wizard, The Little Red Pony, and enjoys spending time with him under saddle and on the ground. She maintains the farm and horses health on the weekends and anytime an extra hand is needed. Phyllis trains new volunteers on the ins and outs of running the ranch and about the horses on the ranch. Her passion for horses and acute awareness of their needs has been a true asset to Hoofbeats. I am honored to have her as a part of our team!
---